ELECMAN ® Galvanized Steel Strut Channel 1-5/8''
PRODUCT: Strut channel
MATERIAL: Steel(Q235)
SHAPE: C channel
SURFACE TREATMENT:Pre-galvanized ,Hot dipped galvanized,Electro-galvanized(yellow or white),Powder coating.
TYPT: Slotted or Solid
THICKNESS: 1.5mm,2.0mm,2.5mm
LENGTH: 1M to 6M



ELECMAN®Strut channels are usually formed from metal sheet, folded over into an open channel shape with inwards-curving lips to provide additional stiffness and as a location to mount interconnecting components. Increasingly,ELECMAN®strut channel is being constructed from fiberglass, a highly corrosion-resistant material that's known for its lightweight strength and rigidity. Strut usually has holes of some sort in the base, to facilitate interconnection or fastening strut to underlying building structures.
APPLICATION:
ELECMAN®Strut channel is used to mount, brace, support, and connect lightweight structural loads in building construction. These include pipes, electrical and data wire, mechanical systems such as ventilation, air conditioning, and other mechanical systems.
ELECMAN®Strut channel is also used for other applications that require a strong framework, such as workbenches, shelving systems, equipment racks, etc. Specially made sockets are available to tighten nuts, bolts, etc. inside the channel, as normal sockets are unable to fit through the opening.



ADVANTAGES:

The main advantage of ELECMAN®strut channel in construction is that there are many options available for rapidly and easily connecting lengths together and other items to the strut channel, using various specialized strut-specific fasteners andbolts.
It can be assembled very rapidly with minimal tools and only moderately trained labor, which reduces costs significantly in many applications.
A strut channel installation also can often be modified or added-to relatively easily if needed.

Cat.#
Trade Size
Thickness(mm)

E-4115

41*41(1-5/8"*1-5/8")

1.50

E-4120

41*41(1-5/8"*1-5/8")

2.00

E-4125

41*41(1-5/8"*1-5/8")

2.50

E-2115

41*21(1-5/8"*13/16)

1.50

E-2120

41*21(1-5/8"*13/16)

2.00

E-2125

41*21(1-5/8""*13/16)

2.50

Notes:Available on both Pre-galvanized and Hot-dipped Galvanized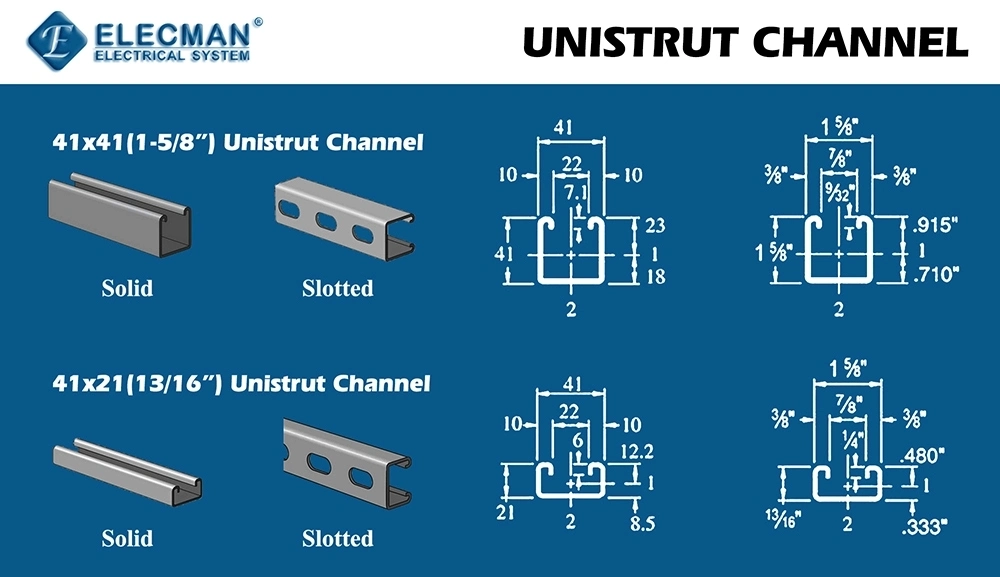 For slot of ELECMAN® slotted strut channels, we provide different size slots, it depends on requirements, if have special requirements, we also can provide.
| | | | | | |
| --- | --- | --- | --- | --- | --- |
| SLOT TYPE | A | B | C | D | E |
| SIZE | 11*25mm | 11*30mm | 18*9mm | 28*14mm | 13.5*63mm |
Packing information
Packing is so important, good packing can help customers to improve the brand image, good packing also can help can help customers to stock the products well for longer time.
ELECMAN®Strut channels are usually packed in bundles, small bundles or big bundles are both available.
ELECMAN can follow any packing requirements of customers.