This two floors steel construction building is normally used as workshop and warehouse.This kind of building is grouped by H section steel ,angle steel,round steel and C section steel,the design features of this workshop is the angle steel roof truss,this kind of roof truss good at large span and light weight,save many tonnage of steel,please check more photoes as follow :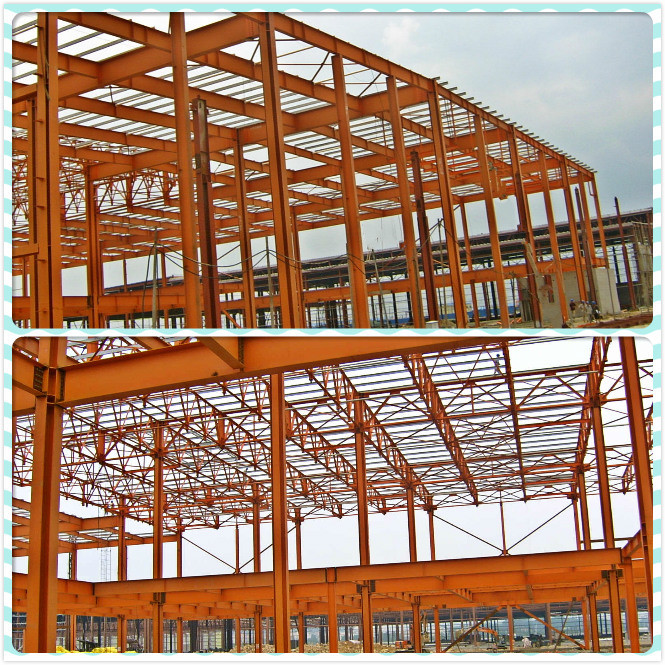 Steel warehouse is the third generation construction. It combines H section and c/z section into the frame with the profiled steel sheet or sandwich panel as the wal and roof. The traditional reinforced concrete construction has aready been taken place by this kind of construction in developed contries. It has many excellent charateristics such as light weight, larger span, less marerial, low cost, less foundation, short building cycle, safe, beautiful, ect. It is widely used in single industrial factory, warehouse, business construction, office, parking lots, residence and so on.

STEEL STRUCTURE MEMBERS PRODUCTION (Fabrication) PROCESS :

1. Prepair raw materials : cut steel plate or use internation size H section steel and angle steel,round tube,round steel,square tube etc.;

2. Assembly and welding: our welders will follow the drawings to assembe the steel members and weld them together as a entire beam/column/brace and so on; (Our quality inspector will check the steel pieces after finish welding,this is the first quality check)

3. Sand blast : After finish welding and polishiing,our sand blast effect can reach internation 2.5 high grade,very good for resist rust; (Secondary quality check)

4.Paint : Within 2 hours after sand blast,all the steel members should be paint. Client can choose any color and any brand of paint.

(The third quality check)



5. Inspect the goods by client : After we finish a part of fabrication work,we will invite clients to check the goods before we pack the steel frame.

6.Packing and loading : If clients require us to load the goods by close containers,we will pack the steel structure members one by one on the steel skid and tie the whole steel package well. (The fourth quality check )


Please check the details drawings as follow :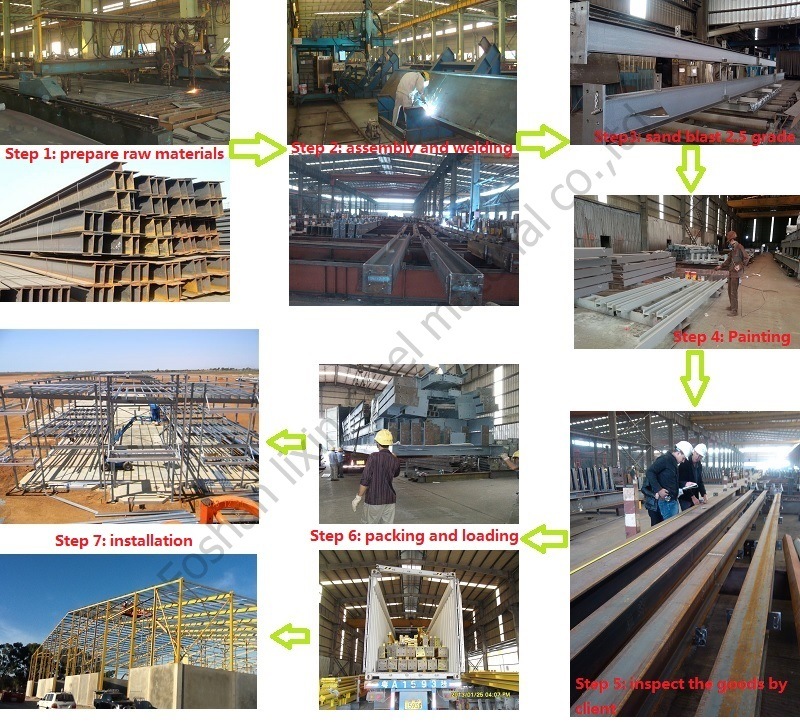 Please provide the following steel structure building importance calculation factors for quotation :

(1) Exact size : length * width *height ;
(2) Wind speed (max speed);
(3) Snow load (kg/m2 in max situation);
(4) Earth quake grade (if have) ;
(5) Live load and dead load for roof and flooring(special for mutli-floors building);
(6) The requirements for window and door;
(7) Max height and weight for crane to lift;
(8) What are the materials for roof and wall ?
General materials for whole steel building:
General materials for whole steel construction
1.Main steel structure frame:
Square tube,H section steel or welded by steel plate (Q235/Q345)
2.Secondary steel frame:
Angle steel,round steel,round tube,square tube,C section steel (Q235/Q345)
3.Embedded pieces and accessories:
High strength bolot,purlin-screw,common screw,self-threading pin,pull rod etc.
4.Paint
Alkyd paint,zinc rich epoxy primer(anti- rust).Foreign client usually use "Jotun" and "Hempel".
5.Gutter:
Color steel sheet,galvanized steel,stainless steel.
6.Rainspout:
PVC
7.Roof panel:
Single steel sheet;EPS/rock wool/polyurethane panel,the thickness of steel sheet depended on client
8.Wall panel:
Single steel sheet;EPS/rock wool/polyurethane/Mgo panel,the thickness of steel sheet depended on client
9.Roof ridge:
Color steel sheet (0.426mm/0.476mm/0.5mm)
10.Trimming:
Color steel sheet (0.426mm/0.476mm/0.5mm)
11.Door:
Roller shutter door/silding door/steel door/stainless door/sandwich panel door etc.
12.Window:
PVC/aluminium window (silding/fix)
13.Others:
Light tile,ventilator,exhaust fan and so on.