Galvanized Road Guardrail with U Post and U Spacer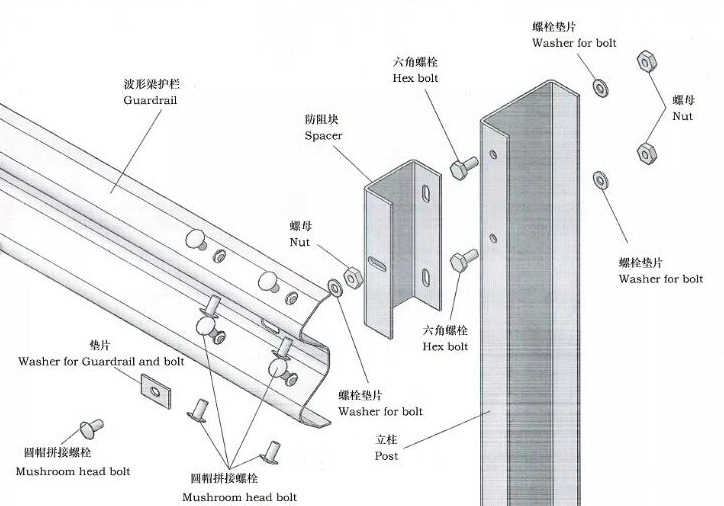 Galvanized Road Guardrail with C Post and C Spacer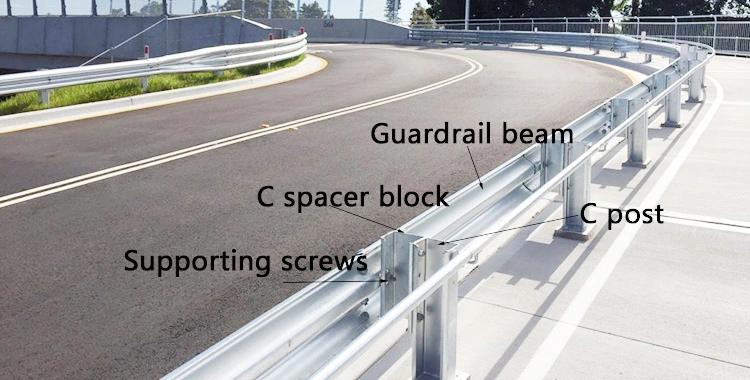 Galvanized Road Guardrail with C Post and Metallic Box Spacer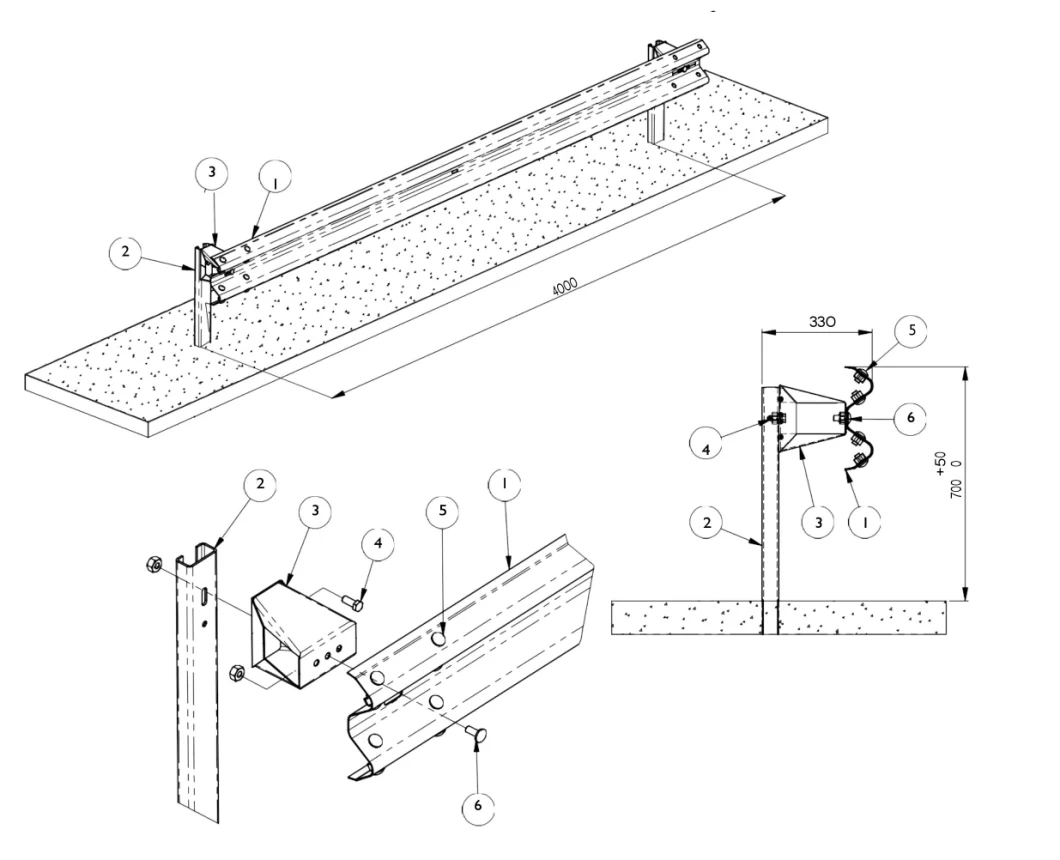 Galvanized Road Guardrail with H Post and H Spacer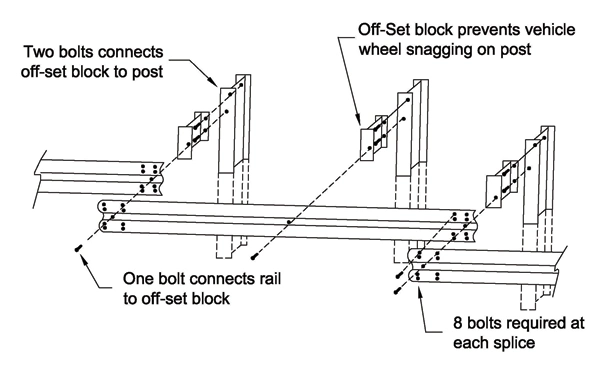 Dachu Guardrail Crash Barrier System Introduction
Wuhan Dachu Traffic Facilities Co.,Ltd. (Wuhan Dachu) supplies qualified barrier systems to the traffic safety area, construction industries, etc. With the strength and reputation of the Central China, Wuhan Dachu is committed to delivering quality, reliability and superior service to meet the demands of clients.

Wuhan Dachu manufacture W-Beam and Thrie-Beam guardrail for both China domestic market and overseas market, and the products conforms to the requirements of different international standards, such as AASHTO Standard, AS/NZS Standard, EN Standard, etc.

W beam is the world's most widely specified safety barrier system. Highly effective and inexpensive, the most popular means of eliminating the threat from roadside hazards.Being a semi rigid barrier, W beam guardrail provides a desirable outcome for both designer and vehicle occupants. The ability of the barrier to absorb some of the crash energy reduces occupant risk and the deformation of the impacting vehicles.

Thrie-beam Guardrail An important attribute of Thrie-beam guardrail is its high level of performance especially for large vehicles. Due to the greater height of the rail face, Thrie-beam guardrail provides reduced deflection and improved resistance to vehicle vaulting or under running. The reduced dynamic deflection and maintenance demand makes Thri-ebeam guardrail ideally suited for major facilities carrying a high volume of high-speed traffic. Thri-ebeam guardrail should also be used in transition from Flex-beam guardrail to more rigid barriers. This significantly reduces the deflection of the barrier system at transition to the rigid barrier.

Transition beam-the corrugated beam used for the changeover from a Thrie-beam road safety barrier system to a W-beam road safety barrier system. Transitions are also required when Thrie-beam guardrail is terminated at a bridge abutment or a concrete parapet. The purpose of a transition is to smoothly increase the stiffness of the approach guardrail from the more flexible to the less flexible system.
Dachu Guardrail Application
- To provide railing protection to motor vehicles at dangerous road areas such as steep slop,obscure curve,high embankment and sharp corner,Expressway, etc.

- To absorb sudden impact during collision to minimize injury to vehicles and passengers.

- To act as directional railing for vehicles moving in the right direction.

- To act as a median barrier for avoiding head on collision.

- To act as a protective barrier for pedestrian along the high way.
Dachu Crash Barrier Post Specification
Base Material

A572/Q345B/HA350/Q235B/A36/S355JR/S275JR

Guardrail I(H) post

150*100*4.3*5.5*1500/1800/1830/2000mm, 150*100*4*4*1500/1800/1830/2000mm, 127*64*7*1800/1830/2160mm,etc.

Guardrail U post

150*100*4/4.3/5/6/7/9mm*700/750/1800/1850/2100/2400mm, 178*76*18*4.3/5/6mm, 150*76*6/8*1830mm, 120*68*5*1800mm, etc.

Guardrail C post

150*110*18*4.3/5/6/7/9*1800/1830/2000/2160mm, 150*76*18*4.3/5/6/7/9*1800/1830/2000/2160mm, 125*50*23*16*4.5*1980mm,etc.

Guardrail Round post

114*3/4/4.5*750/1000/1200/1500/1800/1950mm,140*4/4.5*750/1000/1200/1500/1800/1950/2000/2150mm,etc.

Surface Treatment

Hot Dip Galvanized or Powder Coated

Galvanizing Thickness

300g/m

2

(40µ), 550g/m

2

(80µ) or 610g/m

2

(85µ) or 1100 g/m

2

(160µ) or 1220 g/m

2

(170µ) or customized

Certificate

AASHTO, AS/NZS, EN, ISO9001, ISO14000, SGS, CE, B.V.

Required relevant parts

Guardrail Beams, Terminal Ends, Spacers, Reflector, Backup plate and Bolt & Nut & Washer, etc.

Feature

Great corrosion resistant, high intensity, long and durable, low cost, higher security, environmental protection, etc.

Function

To connect the guardrail beam with the spacer, or to hold the beam, strengthening guardrail protective effect.

Others

Other special specification as per client's requirement or drawings.
Dachu Guardrail Manufacturing Device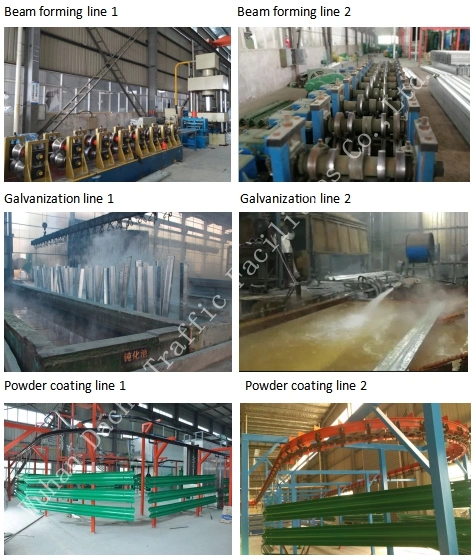 Wuhan Dachu Guardrail Inspection, Package and Shipment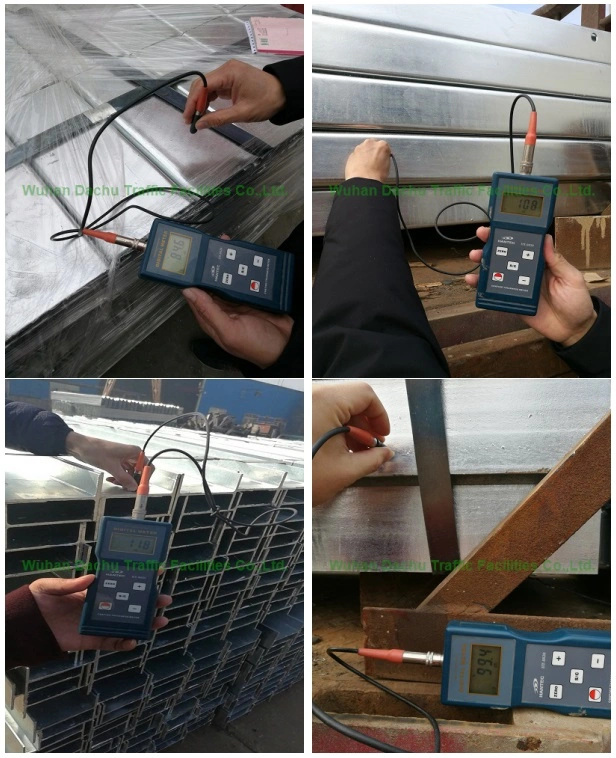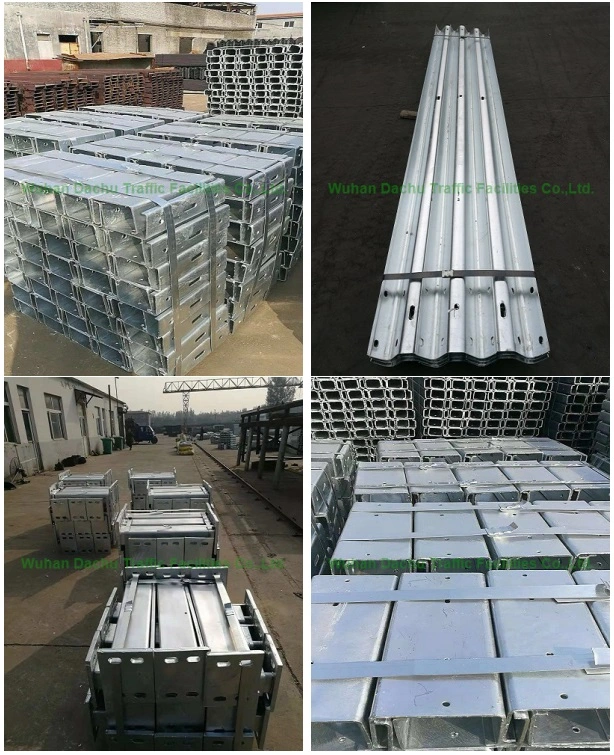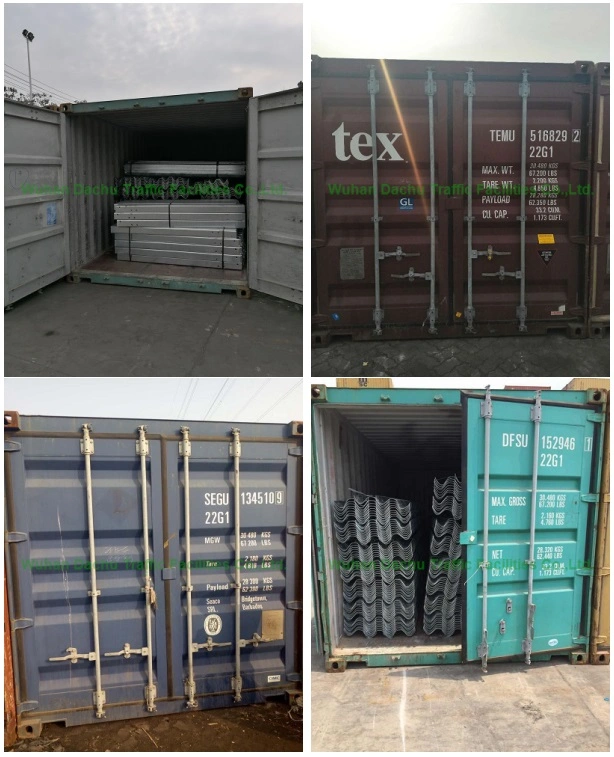 Wuhan Dachu manufactures highway guardrails according to the Standards as below:
1. AASHTO-M180 (Corrugated Sheet Steel Beams For Highway Guardrail -
USA);

2.
AS/NZS 3845:1999(Road Safety Barrier Systems - Australia/New Zealand);
3.
BS EN-1317(Road Restraint Systems - Europe);
4. JT/T 281-1995(Corrugated Sheet Steel Beams For Expressway Guardrail - China);
5. Or tailor-make according to client's requirements.
Dachu Guardrail Qualification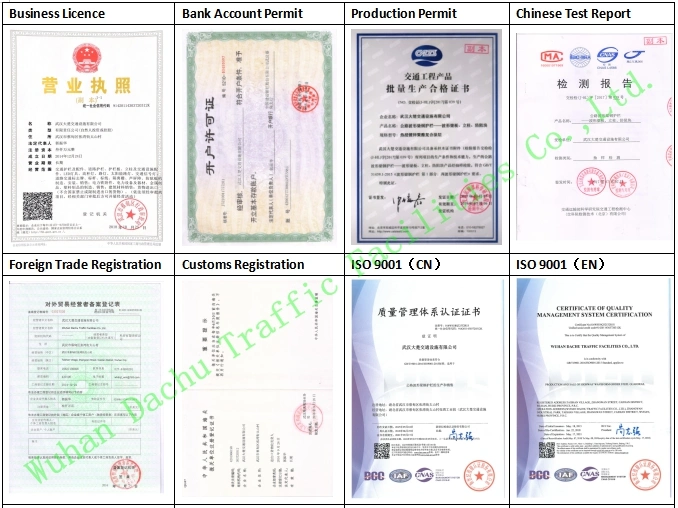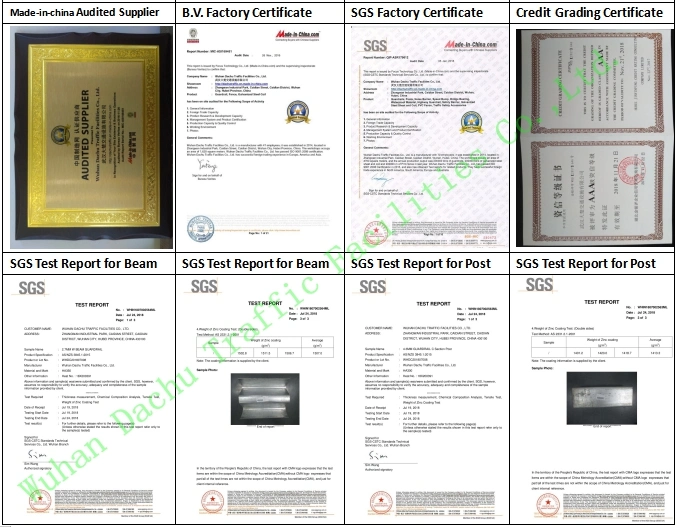 Dachu Guardrail FAQ
Q1: What's your MOQ (minimum order quantity) for guardrails?
A: 4 km or Two full containers of guardrails.

Q2: Are you trade company or guardrail factory?
A: We are guardrail factory, self making and self marketing.

Q3:What's your payment terms for guardrail order?
A: We supply our guardrail by below payment terms:
1)30% in advance by T/T ,70% by T/T before delivery; or
2)30% in advance by T/T ,70% by L/C; or
3)100% by L/C; or
4)Negotiate according to the order status.

Q4: Which delivery terms do you do for guardrails?
A: FOB China port is recommended for guardrails,but CNF/CIF destination port is also acceptable.

Q5: What is the delivery time for guardrails?
A: Normal production time for guardrail sets will be about 35 days, and the final delivery time will be confirmed according to the guardrail order items and quantities.

Q6: Does your guardrail meet EN 1317 Standard ?
A: Yes, we can not only supply guardrail conforming with EN 1317 Standard, but also AASHTO Standard, AS 1594 Standard, and Chinese National Standard etc.

Q7: Can you do the official test for the guardrail order, which authoritative organization is recommend?
A: Yes, the test for guardrail order can be arranged as per requirement, SGS test is recommended, and we could even do the test in the name of your company.

Q8: Can you send us samples before we place the guardrail order, and how to charge it ?
A. Yes, we could send you guardrail samples for free, you just need to pay the postage fee.

How to Place Guardrail Order to Wuhan Dachu
Step 1: Send us inquiry at made-in-china, or send us email or call us at 0086-13517190016;

Step 2: Provide your specification and quantity to us, or we could offer our guardrail product list for your reference to choose;

Step 3: We will made detailed quotation as soon as we receive your specification and quantity;

Step 4: Samples can be arranged if needed, the sample is free to you, you just need to bear the postage fee;

Step 5: Factory visit if possible, you will be warmly welcomed;

Step 6: Confirm the order, we will arrange the production as soon as the advance payment is received;

Step 7: Confirm the delivery time, balance payment need to be arranged before the goods is dispatched;

Step 8: You could contact us for any questions even after sales.
Why Us :
A. We are manufacturer, with competitive price and reliable quality to enable clients to take the projects;

B. We are certificated plant, with various certificates to secure clients' official requirements;

C. We possess our own export qualification and are rich in trade operation to simplify clients' operation.
Contact us immediately for any more doubts about Wuhan Dachu, we would reply your questions in formal methods asap.
Wuhan Dachu Traffic Facilities Co.,Ltd.
(Company Code: 91420114303720312K; Trade Licence Code: 03027006; Customs Code: 420196619D )